Are you looking for some Call of Duty Modern Warfare thumbnail images that you can download for free? If your answer is Yes, then you are at the right place. Why? Because I am sharing 10 different COD Warfare thumbnails in a few clicks. All of these thumbnails are ready to be used in your videos. But what if you want the background with PNGs and add your own custom texts? I have a solution for that problem also. I am sharing the backgrounds and PNGs of all the images where there it is necessary. And if you don't know anything about editing, you can use the ready-made ones by clicking on the download button right below the image. So, without wasting any more time let's move to the next section.
---
Modern Warfare Thumbnails
In this section, I will explain all the Call of Duty Modern Warfare thumbnail images in brief so that you will get an idea about their usage. Because if you use an image that is suited for a Highlight video in a full-gameplay video, then it will make no sense. And ultimately your viewers will leave. So, I will suggest you read the article with a little awareness. So finally, let's begin.
---
Thumbnail Number 1
This is the first free thumbnail of this post and you can have a look at the image. It is a high-quality image that fits your Youtube video completely. If your video is a highlights video of your Modern Warfare gameplay, then this thumbnail can be on the top of your list. This image is very sleek and attracts the attention of your viewer and ultimately helps you get more views.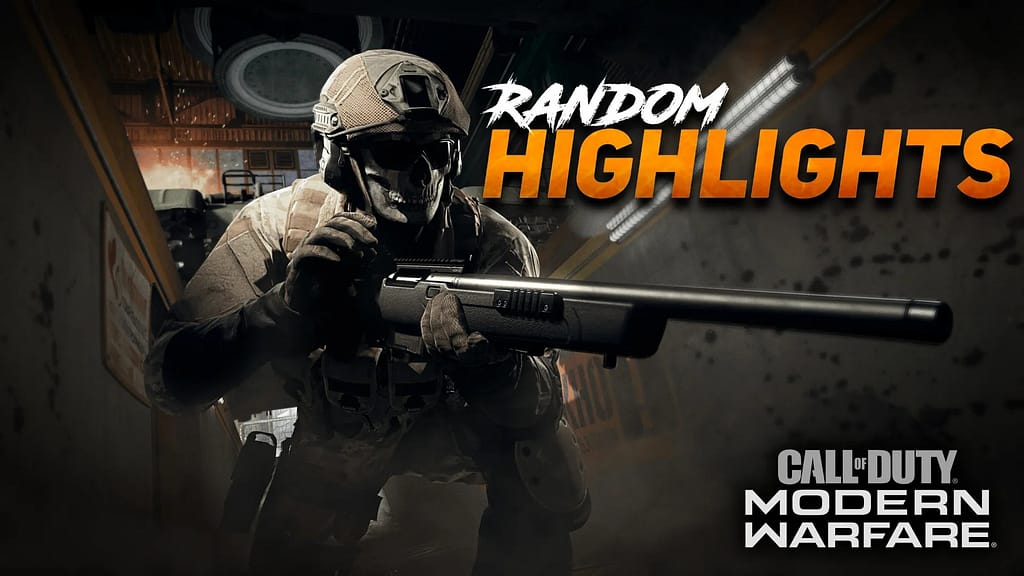 ---
Warfare Thumbnail Number 2
This is a classic call of duty thumbnail of a Modern Warfare game. The character in this image is from a game movie released during the launch of the game. That is why I said that it is a classic image. The text added in this image says that domination begins now, which tells that you have dominated everyone during the game.
No PNG File Available
---
Call of Duty Modern Warfare Thumbnail Number 3
The third call of duty modern warfare thumbnail image is the following one. In this image, the character is aggressing ahead while firing bullets at his opponents. This image can be used for a highlight YouTube video. If you want some different text or you have a different version of this background, then you can download the background of this image. The background image download button will be available below the image.
---
Number 4
This is the fourth thumbnail of Modern Warfare that you can download for free with just one click. In this awesome thumbnail, the character is holding fighting sticks in his hands and He is ready for the fight and defeating his opponent. The texts follow red, cyan, and blue color orders and they suit the background. A logo of call of duty Modern Warfare is also there in the left bottom corner to tell your viewers that it is a video of that particular game.
---
Modern Warfare Thumbnail Number 5
This image is good for those gameplays where you eliminated many opponents, in other words, You have high solo kills. You can use this image in your Call of Duty Modern Warfare Video Thumbnail and tell your audience what your video contains. There are thousands of viewers who like to watch gameplays in which you are the solo survivor. People love this type of content and this thumbnail will help you reach them.
---
A Friendly Reminder
Till now, I have shared 5 images and I want to tell you that creating these took a lot of time. I made these thumbnails available free for you, and to show some support a kind shout-out will be great. You can link to this post where you are using this thumbnail, that will be a great help. It will motivate me to work and create more for people like you. If you do give me a shout-out, Thanks a lot. And now, let's see the rest of the Call of Duty Modern Warfare Thumbnail images.
Are you looking for Warzone Thumbnails?
Check out 10 Free Warzone Thumbnails
---
Number 6
This thumbnail image is completely filled with green colors. There are green lights on the gun, on the outfit of the players, and on the night-vision glasses. That is why I added green color to the text "Comeback" and "insane". It looks really cool and this is a good image to get the attention of your subscriber. Since the text on the image tells about a comeback story, it will fit the gameplay in which you did a really strong comeback.
Call of Duty Modern Warfare Thumbnail Image Number 7
This is the seventh image of this post and in this image, the view is really intense. In this image, there is a character/player who can be seen between two destroyed cars lying on the sides of the image. There is fire all over the area and it seems like a war place. There is destruction everywhere but our hero is holding a gun and he is moving forward. He will knock his opponents and register the victory to his name. This is the message behind the image, you can use this same Modern Warfare thumbnail in your video and convey the same message.
No PNG File Available
---
Number 8
In the eighth Call of Duty Modern Warfare thumbnail, there is a very famous in-game character is standing against the sand storm. He is holding his fellow teammate's chains in one hand and putting his gun out from his other hand. This showcases a revenge story and you can do the same. Hit the download button and use it in your video. The thumbnail is very clean but attractive and it has the potential to drive you the result you want.
---
Modern Warfare Thumbnail Number 9
The second last is also one of the best thumbnails. The image contains a screenshot of the in-game gameplay and is edited in a cool way. The background image is kind of black and white and there are only two texts in the thumbnail. "Warfare" is in white color and "Domination" is in red color. These two colors look great together and the gun is over the "Domination" text. This effect always looks great and this is a reason this effect is used the most.
---
The Last One
This is the last thumbnail of this post and with this image, I completed my promise of 10 free Call of Duty Modern Warfare Thumbnail images. In this image, the character is alone and that's why I added the text "Lone Wolf". The color of the text does not look that great, so if you liked the background You can download it from the button below. After downloading, you can use any photo editing tool and add text that is relevant to your content.
---
Conclusion
At the end of this awesome article, I hope all the Call of Duty Modern Warfare Thumbnail images is helpful for your YouTube videos. I shared different thumbnails stating different messages and different purposes. Some of them were for highlight videos, some were for last survival videos, and some were generic. As I mentioned earlier, All these thumbnails are 100% free to use. Don't forget to give me a shout-out, this helps a lot. If you have any queries, you can ask me on my Instagram. See you in the next post, Have a great day.